Libido Enhancing Formula for Women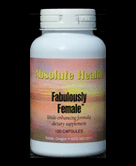 Men peak at 17; women peak at 35. What on earth wasMother Nature thinking?
This hardly seems fair to either sex. Mother Nature caused this dilemama, so we turn to her for a solution.
Throughout time there have been plants and herbs reputed to, either combined or alone, enhance waning libidos.
Absolute Health has combined these unique ingredients into Fab Female.
L-Arginine - Increases blood supply.

Horny Goat Weed - This plant received its name when it was noticed that aged goats who nibbled on it, became much more "active".

Maca Tuber - Of the radish family, the incas have used maca for 3.000 years to enhance energy and endurance.

Catuaba Bark - Believed to enhance sexual function by stimulating the nervous system.

Muira Puama Bark - Native to Brazil, it has a long history of use as an aphrodisiac.

Sarsaparilla - May enhance physical stamina.

American Ginseng - Used for energy and stimulation.

Damiana Leaf - Long known as an ancient aphrodisiac.

Ginkgo Biloba - Increases circulation.
Why Fab Female Works:
Fab Female uses many synergistic herbal extracts, in generous quantities, to help with desire, sensitivity, blood flow and circulation.
For a more in depth look at the individual ingredients in our products, go to the Ingredients page, click on the product of interest, and then go to the appropriate link, or just go to our Site Map and look under ingredients.
Fab Female Supplement Facts
Serving Size 4 Capsules
---
Amount Per Serving
L-Arginine................................1000 mg
Horny Goat Weed(10% Icariin).............. 500 mg
Maca(0.6% Macamides and Macenes).......... 250 mg
Catuaba Bark.............................. 150 mg
Muira Puama 4:1 Extract................... 150 mg
American Ginseng.......................... 50 mg
Damiana Leaf 4:1 Extract.................. 50 mg
Ginkgo Biloba Leaf Extract................ 30 mg
---
Order today! It is fast, safe, and convenient. Only $59.95