Virile Plex Libido Enhancing Formula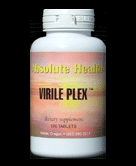 It's a well-known fact that men hit their sexual peak while still in their teens. Women hit their peak during their mid-thirties.

This hardly seems fair to either sex. Mother Nature caused this dilemma, so we turn to her for a solution.

The result: Virile Plex
A synergistic combination of plants and herbs long recognized for their contribution to well-being.
Tribulus Terrestris - A well-known herb thought to stimulate Lutenizing Hormone.
Maca Turber - Used by the Incas for over 3,000 years to enhance energy and endurance.
Yohimbe Bark - Increases blood flow and is thought to stimulate the pelvic nerve ganglia. Warning: Men with heart conditions or on heart medication should consult with their health care provider before using any Yohimbe products.
Muira Puama - Native to Brazil, it has a long history of use as an aphrodisiac.
Oat Straw - Wild oats, need we say more?
Sarsaparilla - May enhance physical stamina.
American Ginseng - Increases resistance to the effects of stress and improves circulation and mental functioning.
Horny Goat Weed - Centuries ago Chinese goat farmers noticed that both their older goats experienced sexual rejuvenation after eating the Weed".
Korean Ginseng - Enhances stamina.
Ginko Biloba - Improves blood flow through both major blood vessels and capillaries.
Ginger Root - Increases blood flow.
Freeze Dried Oysters - Are a source of zinc.
Deer Antler - May help balance the endocrine system.
Siberian Ginseng - May help support theadrenal glands.
Why Virile Plex Works:

Virile Plex uses many well known herbal extracts in generous quantities. Combined together they work synergisticly to help with desire, sensitivity, and sexual performance. For a more in depth look at the individual ingredients in our products, go to the Ingredients page, click on the product of interest, and then go to the appropriate link, or just go to our Site Mapand look under ingredients.
Virile Plex Supplement Facts
Serving Size: 4 Tablets
---
Amount Per Serving
Tribulus Terrestis........................ 600 mg
Maca Root Extract......................... 300 mg
Yohimbe Bark Extract(4% Yohimine)......... 230 mg
Muira Puama 4:1 Extract................... 200 mg
Oat Straw 10:1 Extract.................... 200 mg
Sarsparilla Root.......................... 200 mg
American Ginseng Root..................... 125 mg
Horny Goat Weed Extract(10% Icariin)...... 100 mg
Korean Ginseng Root....................... 100 mg
Ginkgo Biloba Leaf Extract................ 60 mg
Ginger Root............................... 50 mg
Freeze Dried Oysters...................... 20 mg
Deer Antler............................... 8 mg
Siberian Ginseng Root 50:1 Extract........ 5 mg
---
Order today! It is fast, safe, and convenient. Only $59.95